14

Mar, 2017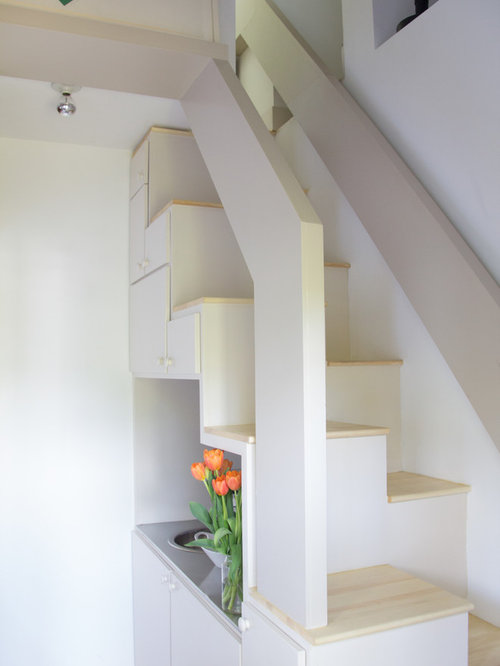 Space saver stairs are becoming more and more popular. Also known as alternating tread staircases, loft stairs or paddle stairs, they can provide a convenient way of reaching an attic or basement where a standard staircase wouldn't fit.
The stairs are so compact because they are designed with alternate handed steps, effectively halving the number of treads required – so the overall footprint of the staircase is much smaller than normal stairs. They can, however, take a bit of getting used to. So, are space saver stairs worth having? Let's look at some of their best and worst aspects.
Advantages of space saver stairs
Convenience – Anyone who has ever wrestled with folding loft steps will appreciate being able to simply walk up a set of permanent stairs when they need something from the attic.
Safety – As a fixed structure, space saver stairs are much sturdier than any ladder. That said, the design needs to be right. As each step takes more strain than the average staircase (due to the steep pitch), the treads should ideally be at least 32mm thick and made from a strong timber such as oak or ash. Pine and similar softwoods are liable to crack so should not be used. Slip-resistant surfaces for the treads are essential. You will also need a robust handrail, preferably on both sides. Provided all these conditions are met, there is no need to worry about safety.
Style – These stairs are available in a wide range of designs and materials, so you can choose one to suit your home's character and décor. The cut-away steps are considered by many to be an attractive design feature – and you can even paint or stain them different colours for extra effect.
Cost – As there are fewer treads in space saver staircases they almost always cost less to produce than standard stairs, making them an economical option for home owners on a budget.
Drawbacks of space saver stairs
Restricted use – These types of stairs are not intended for use as a main staircase, but are only suitable for access to a single room such as an attic or cellar.
Unusual design – It can take a little while to get to grips with the alternate tread arrangement, as you only place one foot on each step. Some people find it easier to start off on their left foot rather than their right, and vice versa. Many stair manufacturers are able to accommodate individual preference, and arrange the steps accordingly.
Pitch – Obviously, these staircases have to be steeper than standard stairs otherwise they would not have a reduced footprint. This does make them a little harder to climb than normal stairs, which is why strong handrails are particularly important with this type of design.
What about building regulations?
Legal requirements are frequently interpreted differently according to where you live, so always check with your local building control officer before ordering a staircase. The main points to remember are: The stairs should only lead to one room; they cannot be used as the main staircase; they must be straight; you must fit a handrail where the drop is greater than 60cm; the maximum pitch (steepness) permitted is 42 degrees; and you need to allow a minimum head room of 1.9m.
To sum up…
Space saver stairs can be a stylish and practical option, but you need to do your homework thoroughly first. Measure carefully to check you have enough room, speak to staircase designers and consult your local building control officer before committing to a purchase.